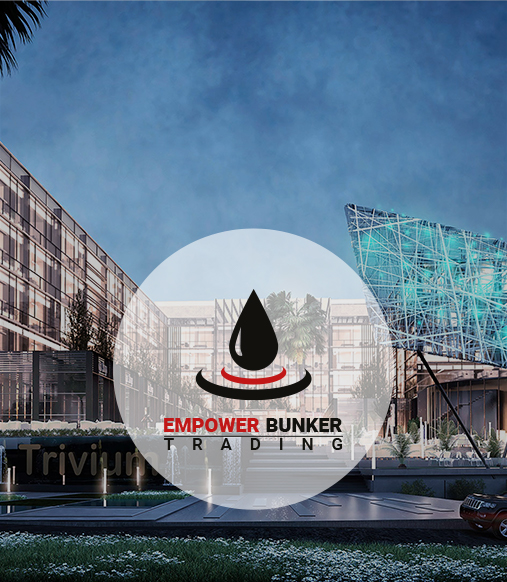 Who are we?

Empower Bunker Trading Company is a well-established marine fuel logistics company and is widely recognized as a leading supplier of quality bunker fuels.
We market bunkers to all types of vessels passing by all the Egyptian territorial waters.
Empower Bunker Trading is a customer-oriented company providing the best quality fuels in the world at most competitive prices resulting from a low cost and highly efficient operations.
We pride ourselves on the ONE STOP approach to our customers' needs with ON TIME – TROUBLE FREE deliveries.
We procure our stock from reliable sources.
By managing our own fleet of bunker tankers, we retain full control over the entire bunker delivery process.
Empower Bunker Trading certificated with:
AQC ISO 45001:2018 in Scope BUNKER TRADING
AQC EMS (Environmental Management System) ISO 14001:2015 in Scope BUNKER TRADING
AQC QMS (Quality Management System) ISO 9001:2015 in Scope BUNKER TRADING

2020 Readiness
Empower has already begun to cope with IMO 2020 regulations.
We will help our clients to comply with the new regulations through the following solutions:-
We already have LSMGO at very exquisite and competitive rates.
LSFO product will be available in Egypt very soon to cope with the new regulations.
We will collect HSFO as sludge at very competitive rates.
Lower prices for customers
Due to our strong supplier relationships, we are able to offer lower prices to our customers.
We always have innovative solutions to suit every budget.
We have also a lot of payment facilities options.
Coverage
Empower covers all the Egyptian ports.
Whether your vessel is at Suez, Safaga, Alexandria, Damietta or any of the Egyptian ports, thanks to our owned barge and truck facilities, we can handle all of your bunker inquiries with the same level of dedication and compliance.
Insurance
Empower is financially very strong.
We are fully insured, and we thoroughly select the right partners.
Due to our buying power and contact with all oil majors, we eliminate your risk.
We are here tomorrow and the day after tomorrow.
We use our experience in the International shipping industry to provide fresh thinking and new solutions.
Quality (Delivered With Excellence)
We are doing our best to exceed customers' expectations & satisfaction through consistent execution and an uncompromised emphasis on quality.
Quality extends beyond our commitment to deliver with excellence – we continuously develop our unique ability to provide integrated solutions for our Partners and End Customers.
To be the regional market leader in the areas of operations, sales and customer services as well as logistics, to be a high-performance, competitive, well-managed bunkering company with a philosophy of continual improvement, to provide excellent service in the regions in which we operate as they serve as transit zones for global trade and to contribute to the development of the customers and suppliers which we view as our business partners.
Our commitment
Our philosophy of care is more than a viewpoint, it's a commitment.
Quality
We strive for consistency, seek continuous improvement and never compromise on our product and service quality.
High product quality and consistent service delivery are the cornerstones of our business. That's why we strive to comply with the highest industry-recognized standards.
It's essential for us to meet or exceed our customers' demands and industry standards for marine fuel.
FLEXIBILITY
We understand the ever-changing scenarios that occur in bunkering and no matter how difficult, we always find the most effective solution. Being flexible is what makes us dependable in ensuring that we never have to turn down any bunkering request from our customers.
We can supply marine fuel and gas oil at very short notice, with highly competitive price charts, and the best quality available. We deliver reliably, safely, in the correct quantities, all in the agreed time frame, both onshore and offshore. The supply of marine fuel and gas oil is our core business.
Safety
With Empower, there is no room for errors. We believe in safety in every step of the bunkering process. We make every effort to provide a safe working environment for all our team members.
OUR RISK MANAGEMENT PROCEDURES INVOLVE
Ensuring our service providers are very carefully selected and raising people's awareness concerning Safety and Environmental issues
Monitoring their HSEQ performance regularly (Health, Safety, Environment, and Quality)
Entering into partnerships on HSE-related issues with all bodies involved in the supply chain (product suppliers, port authorities, etc.)
Analysing how products behave in case of any accidental spillage in marine environments.
integrity
Consistency and transparency in our actions, methods, and principles are at the core of our business strategy. We understand the value of integrity in an ever-competitive market and have the privilege of our clients' trust, which we uphold over all else.